Manufacturing of custom air handling units ranging in airflow from 500 CFM to 200,000 CFM.
Manufactures humidifiers, such as wetted media (called Aerofils and FinFils), and sprayed coil units (called PCLWs).
All aluminum construction.
Components include fans of all types and quantity, heating coils, cooling coils, filters, attenuators, humidifiers, dehumidifiers, flow-measuring devices, controls, vibration isolators, dampers, blenders, energy recovery devices, and electrical components.
More than a century of expertise in the air moving and conditioning industry.
State-of-the-art right angle sheer, foam injection machine and press to provide high-quality, economical construction.
CAD design of units and SolidWorks 3D modeling.
Application engineering expertise to solve customers' most demanding HVAC requirements.
Units designed for extended service for markets such as pharmaceutical, hospital and health
 care, chemical, telecommunication, semi-conductor, institutional, pulp and paper, food, biotech and automotive.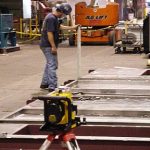 Among Our Current Resources
A 90,000-square-foot production facility, located in the town of Amherst in south Central Virginia.
Autocad, SolidWorks and Revit design stations to design units.
Automated selection, drawing, and pricing program.
Graduate engineers serving as Sales Representatives.
Quality Assurance Manual (available upon request).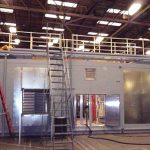 Advantages We Offer Our Customers
Air moving experience since 1878.
Experienced Field Sales Engineers.
Fan and coil experience of Buffalo Air Handling people.
Complete electronic submittals and service manuals.
Longevity of equipment.
State-of-the-art panel forming process (CAD-CAM) assuring low leakage units.
Dedicated facility totaling 90,000 sq. ft.
Application engineering expertise to solve demanding HVAC requirements.
Full time start-up servicemen.
Team approach with major consulting engineers and owners — we listen
Quality checklists for all shop departments.
Aluminum, galvanized or stainless steel construction options to address design concerns.
Laser leveling system in shop and full perimeter angles at unit splits for tight, field fit-up.
Heavy structural channel bases and vibration bases.
Full height and width diffuser plate for blow through applications with centrifugal tone.
All fans vibration tested.
Airside performance, sound, leakage and deflection testing available at factory.
1/2% to 1% casing leakage rates.
Units completely shrink wrapped and tarped for shipment.
Knock-down construction available for renovation projects.
Unit fit-up at factory for knockdown construction assuring less time for field assembly.
Injected foam or fiberglass insulation.
All aluminum construction to address weight, corrosion, or aesthetic concerns.