Buffalo Air Handling's roots reach back to 1878 with the formation of Buffalo Forge, an enterprise that initially specialized in the manufacture of blacksmith's forges. Buffalo's product line soon grew to encompass dust collectors, industrial steam engines, and other factory machinery. In the early 1900's, Buffalo Forge devised key components of modern air conditioning systems…and Buffalo quickly became a leader in air handling/heating/cooling technology.
Buffalo provided air handling units for applications ranging from movie theaters and office buildings to ship board use.
All units changed from single wall to double wall and from external isolation to internal isolation, so too did Buffalo change to address their requirements.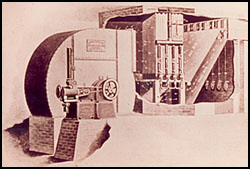 Custom air handling units emerged as a market niche in the mid 1950's. and grew along with the critical needs of the hospital, pharmaceutical and laboratory markets.
The Buffalo Air Handling facility in Amherst, Virginia, was built in 1977 specifically to manufacture air handling units.
In 1980 Buffalo became part of the Ampco-Pittsburgh Corporation Family along with its sister companies; Aerofin Corporation and Buffalo Pump, Inc.
Today, Buffalo Air Handling produces units for many market sectors for both new and retrofit applications.